Sonja Michaluk, 14, discovered her passion for streams and critters at a young age, and the Watershed has been a nurturing eddy where she's developed her scientific prowess. A new grant from the New Jersey Department of Environmental Protection (NJDEP) will allow the Watershed to expand its role in training citizen scientists.
Michaluk, a sophomore at the Hopewell Valley Central High School, joined the Watershed as a citizen scientist at a young age, sampling local waterways for macroinvertebrates at age six. Four years later, she joined the team examining the chemical makeup of local streams.
"Water is the essence of life. Special magical life surrounds a clean body of water," Sonja said.
The Watershed has been a second home for Sonja, allowing her to explore and develop her scientific skills with increasing challenges and responsibilities, regardless of her age.
See Programs for Young Scientists
Sonja is one of many volunteers for StreamWatch, the Watershed's program for monitoring the health of central New Jersey streams. Stream Watch, now celebrating its 25th anniversary, recently received a $240,000 grant from NJDEP to expand its community-based programs to monitor water quality throughout the state.
Led by Erin Stretz, the Watershed's Assistant Director of Science and Stewardship, the team will connect with nonprofits, green teams and local agencies to build a statewide network. Erin is highly qualified for this role, bringing her experience as the StreamWatch coordinator and, previously with the Connecticut Department of Energy and Environmental Projection's Project SEARCH monitoring program and with NJDEP's Americorps Watershed Ambassador Program. Erin is a member of the New Jersey Water Quality Monitoring Council and has a strong professional relationship with NJDEP.
The Watershed will be responsible for expanding the range and number of assessments throughout the state as well as developing and maintaining consistent methodology between the various volunteer groups. The Watershed also will work to increase the quality and quantity of volunteer-collected data used by NJDEP.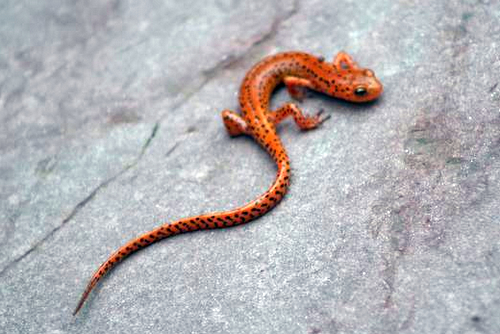 Sonja said she would encourage others to join StreamWatch, saying those experiences helped spark her interest in chemistry, geology, and herpetology. "StreamWatch sharpens your observational skills and helps you connect the dots so you can develop conclusions from the data you've collected."
Sonja talks about her inspiration when, at age 10, she first spotted a bright orange Long-tailed Salamander, a threatened and endangered species. She said acting as a guardian for stream life is a key reason she wants to keep water clean, safe and healthy.
"In science, there isn't really an age or gender – everyone is just a scientist," she said. Thanks to the NJDEP grant, more young scientists will be able to explore the field, just as Sonja was allowed to discover, pursue her passion, and be herself.
Sonja was recently recognized as a "River Hero" by the Alliance for Watershed Education. Read her speech to learn more about her work!